Overview
Even if communication patterns evolve with enhanced "socialization", mail remains the main tool for exchanging information between people in a business context, leading to a steady increase in data volumes stored on mail servers. The Archive Mail solution offers a new way to organize the archiving of users' email data by considering the constraints of the various actors (users, administrators, support):
Archive databases are created on a Domino server dedicated to archiving, with one database per user and per year.
Archiving is automatic, oldest messages being archived first, leaving X months of newest messages in the mail database.
The mail database quota may be removed, with the user not receiving anymore pop-ups blocking message sending.
Archive databases are automatically replicated on user desktops.
Archive databases are accessed either locally (for the user's own databases), either on the server for other archive databases (delegation databases, shared databases ...). Archive databases can be viewed from the Notes client, iNotes or via a web browser (HTTP).
A search module enables the user to search for messages in all archive databases through a clear interface (several search criteria available making document search more effective).
Administrators set the volume of archive databases hosted on servers. They can delete archive databases at any time (after tape backup). Users still access their archived emails via their local replicas (no volume or time limit).
The Helpdesk team can access the users' archive databases and take action on them.
The IT department gets all messaging-related flags through the statistics module: size of mail databases, archived volumes per year, number of archive databases, volume evolution ...
Decongestion and performance optimization of mail servers: Installation of the product in a Domino environment without prior archiving. Definition of the duration of storage of messages in the mail database (usually 12 months) and automatic creation of archive databases on a dedicated server. The volume of data hosted on the mail server immediately decreases
Removal of quotas for the user : Installation of the product at a client site who already has a native Domino archiving process in place on the server (1 archive database per user). Existing mail and archive databases are processed by Archive Mail in order to generate 1 archive database per user and per year. Old archive databases are then deleted (once they have been emptied). All the old messages that are still lying around in mail databases are archived, so there are only X months of messages left in the mail databases. The quota is then removed from the mail databases (no more pop-up blocking users).
Retrieval of old archives under Archive Mail : Installation of the product at a client site using a Notes native server archiving, with 1 database per user and per year (manual archiving, creation of the yearly database via a button sent via email at the beginning of the year). Existing archive databases are attached as being under control of Archive Mail. The product archives mail database messages in available archive databases and creates new archive databases at the beginning of the year.
Centralization and securing of archives : Installation of the product in an environment where mail archiving was processed locally on the machines. The user is responsible for the management of local archive database(s). After product installation on the server, local archive databases are automatically replicated on an archiving server and the tool empties them in yearly archive databases (1 database per annum and per user) that it creates and manages. Archive databases hosted on the server are then automatically replicated locally on user desktops.
Archiving with the user's consent : Installation of the product at a German client site where the user's prior consent is requested before any product integration in the mail database. Use of the communication module integrated with the tool in order to send an email to the end users and get their authorization for archiving their mailbox (fully automatic process).
Migration of another SQL archiving solution to Archive Mail : Installation of the product at a client site using an archiving tool for Notes messages in a SQL Server database (with persistent slowness problems due to the database volume). Service delivery for existing data recovery and conversion of messages into Notes documents stored in archive databases (one per user and per annum). The Archive Mail engine could then replace the old SQL archiving.
Native IBM Domino Solution :
In order to contain the volumes of messages on mail servers, the solution originally provided by IBM consists in imposing a quota on the mail database, requiring users to regularly transfer the documents from their mail database to the archive databases created locally on their machine.
This way to proceed involves some risks and disadvantages:
No data security (archives may be lost in case of machine failure and their transfer may be difficult in case of desktop change).
No data sharing (archived data cannot be accessed from another machine than the one hosting the data or from a Web browser/Smart Phone light client, and it is not possible to access archive databases owned by users for which we have a delegation on the mail database).
Constraints faced by the user (windows blocking the sending of mails are displayed in case of quota overrun).
Transfer of management tasks to the user (message archiving, database management ...).
Lack of centralized control on archiving parameters (spread in the users' mail databases).
Lack of information on archive databases stored on users' desktops (location, number, volume ...).
As users want to quickly get below the quota applied to the mail database in order to be able to send messages again, they tend to archive big messages first rather than the oldest ones. In the mail database, there remains a certain number of small documents that are very old and hence rarely viewed.
Cooperteam's Archive Mail:
Creation of an archive database per year and per user on a dedicated, secured and backed up Domino server (archiving server).
Archiving of users' mail databases and generic mail databases (Mail-in databases, functional mail databases ...).
Automatic message archiving according to age (storing of X rolling months of messages in the mail database) or volume (mail database quota set to X MB).
Customized management of message volumes stored in the mail database according to user profiles and user specific needs (legal, creative, VIP, sales ...)
User-triggered manual archiving.
Access to archive databases from the Notes client or the iNotes light client, directly from the mail database.
Automatic creation of archive databases' replicas on users' desktops (Notes client required).
Multi-database search engine (mail database and archive database). The search can be accessed in offline mode (Windows or Macintosh client).
Retrieval of existing archive databases (on a server or locally on the user desktop).
Archiving years may be calendar-based (January-December) or school-based (e.g. September-August).
Link stored in the mail database for all archived documents (stub documents).
Statistics about volumes of archived data and user activity (manual archiving, search ...).
Audit of the setup of mail and archive databases stored on the Notes clients, and management of these databases (creation, replication, indexing, management of access rights ...).
Module for the communication with users (sending of information emails, answer collect ...).
Module for the management of archive databases (rollback, removal, move between servers ...).
For the user :
Archiving is automatic, no user action is required to archive messages or create a new archive database (including the local replica).
The mail database always remains under its allowed quota, there is no more pop-up blocking the sending of messages.
It is possible to set up the emails that should not be archived (private documents, ongoing projects ...).
The user can immediately archive the messages of their choice by selecting them in their mail database (including in offline mode).
Archived messages are logically grouped by calendar year (1 year = 1 archive database).
Archive databases are stored on a server, so in case of a problem with the user desktop, databases remain accessible.
Replicas of archive databases are automatically created locally on the user desktop, granting permanent access (offline mode).
Quick search in all archive databases (in addition to the mail database), with multiple criteria (by date, folder, type ...).
Access to archived emails from several interfaces (Notes client, iNotes, Traveller ...).
Access to employees' archive databases (if one originally has a delegation on their mail database).
Access to generic mail databases' archive databases (Mail-In database, functional mailboxes).
For the IT department :
Limitation and permanent control of data volumes hosted on mail servers.
As messages are archived on a Domino server, data is securely stored (no risk of data loss after a user PC's failure or theft).
Transfer of mail volumes to archiving servers (Domino) whose running cost is lower than with a traditional mail server (no cluster, cheaper storage drives, smaller volumes to be stored daily).
Breaking down archived documents into yearly databases facilitates data storage management over time. Up to 3 years of archive databases can be hosted on an online server and all older databases can then be backed up on tape (and restored if needed). Users keep all their archives on their local drive (local replicas).
Mail archiving in native Notes format in databases hosted on a Domino server allows to benefit from attached files' factorization (DOAS) in order to limit the required storage space.
The application provides all statistics related to the mail usage (hosted volumes, archived volumes, trend data ...).
Archived data storage over time is managed by the Notes Extractor complementary module allowing to extract data from Notes databases in open file formats (XML/HTML).
For the Domino Administrator :
Centralized interface for the administration and follow-up of archiving processes (one setup database only).
Archiving options are grouped as Profile documents that can be easily assigned to users according to their needs.
The whole archiving process is done automatically, including the local creation of archive database replicas and the rollout/update of components stored locally on the user desktop. The daily management of archiving takes very little time (once the system is set up).
Retrieval of existing archive databases (stored on a server or locally on user desktops) in order to integrate their content in the archiving process.
The administration console allows to massively manage changes related to archive databases (database removal, transfer to another server, change database location on the same server, attachment of existing archive databases ...).
Running on any version of the Domino server, the Notes client or the mail template (no pre-requisite).
No mail template modification required. The update of mail templates during server upgrades does not interfere with the application.
For the Support Team :
Less calls to the support team (automatic archiving, no more quota-related pop-ups, quick retrieval of archives in case of user desktop failure).
Centralized supervision, for all users, of archives stored on servers and locally on their desktop.
As archive databases are hosted on servers, the support team can directly access them. No need to make an appointment with users to take control of their desktop.
Significant reduction of data volumes hosted on the mail server lowers the mail server cost.
Hosting archive databases on Domino servers whose running cost is lower than mail servers.
Online storage of archive databases covering the X last years and transfer of older databases on tape.
Reduction of the number of calls to support that are related to archiving incidents (quota management, blocked database, lost archive ...).
NEW in v 3.1
This minor release brings a greatly improved iNotes search experience. It is also an opportunity to provide a fix on all the bugs that have appeared in the last 6 months.
The iNotes search module evolves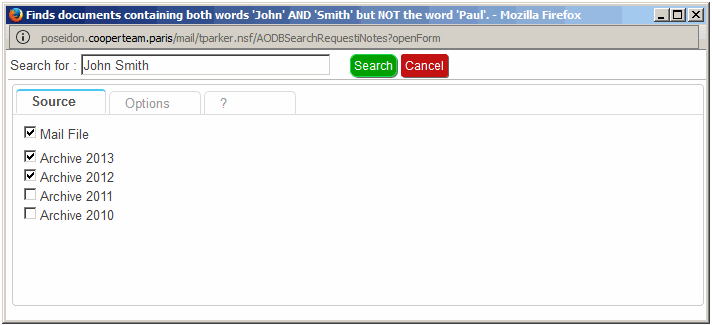 The multi-database search interface has been reviewed in its iNotes (web) version to provide the same functionalities as the search interface available from the Notes client.
The first tab allows you to select the list of Mail or Archives databases in which the search will take place.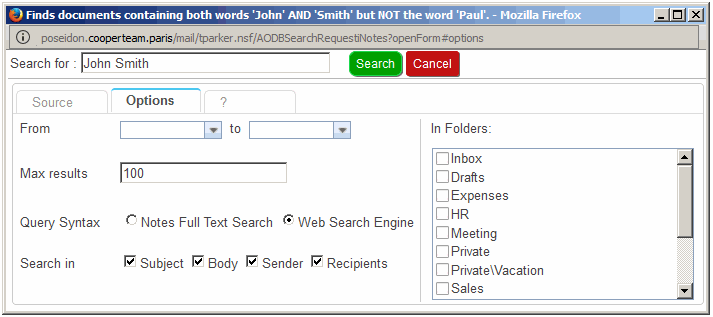 The second tab groups the search options, including the list of folders in the Mail and Archives databases of the user.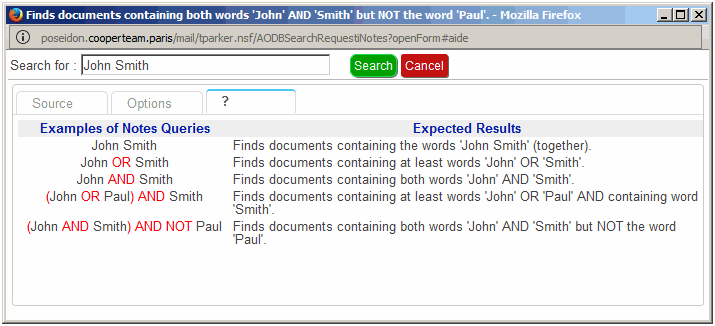 The last tab provides a memory aid for the allowed search syntaxes.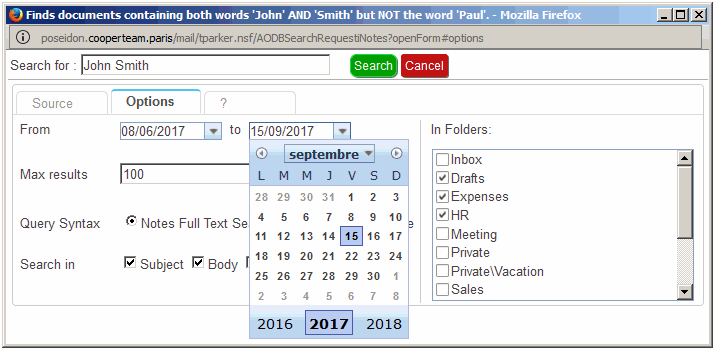 Using Dojo 1.9.7 (provided in the Archive Mail 3.1 package) allows the integration of new widgets , especially for selecting dates.
Reworked Archive Databases Views



The views presenting a user's archive databases have been revised to provide a clearer display of information, with 1 line per archive base (Archive database path, number of documents, size).


New Archiving Option for Calendar Entries

A new archiving option for calendar entries completes the archiving based on the quota overflow of the Mail database. Indeed, it is possible to define a maximum size of Mail allowed, and the archiving is triggered if this threshold is exceeded. The oldest mail documents in the Mail database are then archived in order to make the size of the Mail base fall below the defined quota.
This new option is intended to exclude calendar entries from this load shedding archive. Thus, only the Mails are taken into account and archived. Calendar entries continue to be archived by the traditional process of document age.

Try Archive Mail for free
Discover all the power of Archive Mail:
A COOPERTEAM consultant will demonstrate the power and richness of the features of Archive Mail.
Get 24-hour email support from our dedicated team.
Live demo and product presentation available.
No credit card required.
Start taking advantage of our solution Archive Mail for free by completing the contact form.